Help! My download keeps failing!
Created: 07-22-2021 11:33 AM
Last Updated: 07-22-2021 11:35 AM
Generally speaking, the OSSI upload site can resume downloads if the user doesn't log out.  It can't resume if the user logs out because the session ID, the way the site keeps track of downloads, will be different.  
In some circumstances, the download may fail to resume because of network difficulties.   This happens most often when the browser being used is Internet Explorer.  We have found Chrome with its download manager or Firefox with the "DownThemAll!" extension to be the most reliable browsers for downloading large files.  Firefox and the "DownThemAll!" extension is the most robust download manager currently available.
DISCLAIMER:  OSSI, LLC. does not support or endorse any browser.  This article is for information purposes only and should not be misconstrued as an endorsement of or recommendation for any specific browser.  The browser used is solely the discretion of the end user. 
To install and use Firefox and the DownThemAll! extension:
Download and install Firefox
Using Firefox as the browser, Install the DownThemAll! extension
Restart Firefox.
Go to the upload site, login, and begin the download per the instructions in the article:How do I get the latest version of the software?.  
Firefox will open a download window: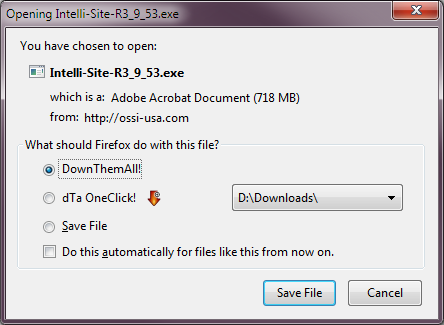 Choose "DownThemAll!" and then "Save File".  DownThemAll! will open a window: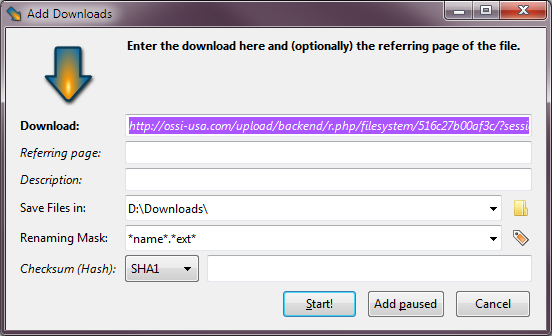 Specify the location to save the file and click "Start!"  Your download will begin and resume as long as you don't log out.
To install and use Chrome: